Tips To Use Jute Rugs, Jute Mats And Jute Carpets For Home Decor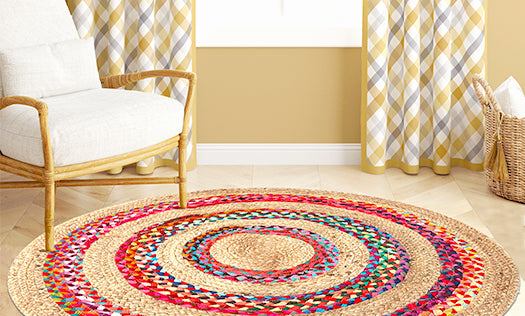 Are you looking for Jute Rugs Online? Natural fiber rugs provide intimacy to any space and go well with a variety of home design ideas. Jute carpets in particular are currently highly popular among the general public and home designers. They are resilient, simple to maintain, affordable, and environmentally friendly. The earthy, subdued colors of jute cloth make it a perfect basis for any home in any season. In addition, the light, effortlessly stylish allure of jute makes it a favorite among many home décor enthusiasts.
In the past, as opposed to now, people would use rugs to provide a warm barrier between their feet and the ground. People were prompted to look into ideas by this impulse. Despite the wide range of rugs and carpets that are currently available in a number of materials, some materials hold a unique position. Natural fibers like jute are used to make carpets, which are now highly popular because of their toughness, sustainability, safety, and rustic charm. It took some time for jute and carpeting materials to evolve, and as time went on, carpets started to be made of ever-more-advanced materials. Interior designers like jute carpets despite the market's extensive selection of carpet and rug materials.
Jute fibers are utilized in many industries, including home textiles, fashion, agriculture, and food because jute may also be used as a herb. Because of its strong tenacity, capacity for heat insulation, breathability, and coarse texture that is easy to clean, this material is a fantastic choice for manufacturing rugs. Jute rugs may be cleaned and vacuumed right away. Since jute is an easy-to-work-with material, jute rugs may be found in a range of colors, designs, and sizes to fit the aesthetic and taste of any home.
Décor for kitchen
Because of its inherent resilience, jute is an excellent material for high-traffic spaces like foyers, living rooms, and kitchens. In every room of the house, a high-quality jute rug will improve the functionality and texture of the décor. You may also put a jute rug in the kitchen area of your house so that if you spill anything while cooking or eating, you can clean it up right away with soap and water. It is not required to spend a lot of money on dry cleaning or specialty cleaning services. Even with severe daily wear and tear, a high-quality jute rug may last for many years. Jute carpets are a distinctive addition to our homes because of their durability.
Use for color Scheme
Jute rugs are adaptable, fashionable, and have a relaxed, seaside vibe about them. For this reason, jute carpets complement both conventional and modern home décor. Modern jute rugs frequently include cutting-edge patterns. You may also use artistic methods to give your traditional rugs a modern twist. Simply cover them with a rug in a stunning pattern, a bright color, or a different color palette. If you pair your jute rug with a colorful rug, your home will have a feeling of balance that provides covering and an exciting sense of texture. Large living rooms, relaxation spots, bedside areas, and well-lit study spaces all benefit from this technique. You can use colored Jute mats like Jute Blue Area Carpet from Habere India.
Bedroom Jute rugs
Like any other bedroom rug, jute rugs are a fashionable and practical addition to any home. They might contribute to the cozy, welcoming ambiance you want for your guests as well as give you somewhere comfy to rest your feet and block out the noises of foot activity. Jute's greatest advantage is that it can be used to practically every room in the house. Bedrooms, hallways, and living spaces may all benefit from jute carpeting. Any bedroom style may work with a jute rug, which can also assist to balance off hardwood or tile flooring. Most individuals choose cozy and long-lasting bedroom carpeting.If so, think about a rug made of natural fibers. Strong but soft materials that are ideal for your bedroom are jute and sisal-wool. You can buy various Jute floor mats like Denim Jute Area Carpet from Habere India.
Living room Jute rugs
Jute carpets are strong and able to handle wear and tear without being damaged, making them ideal for use in living spaces. Jute carpets offer warmth and comfort to the eyes since they are made of natural fibers. Living rooms need special consideration when it comes to décor because they are the main points of a home. There, the family comes together to celebrate, have fun, and socialize. Your living space will seem cozy and welcoming at the same time thanks to jute flooring.Round Jute Area Rug from Habere India is one good choice.
If you want to customize your home without losing durability, jute rugs are unquestionably one of the best alternatives to choose from. Many homeowners and interior designers choose it because of its accessibility, environmental friendliness, and biodegradability. Your home will seem more raw, earthy, and rustic with jute carpeting, which goes well with almost any environment. So if you want to add a gorgeous décor plan that is also less hazardous to the environment, consider investing in stylish jute rugs. Also frequently available online are jute rugs and carpets.