How To Use Gifting Basket for Upcoming wedding season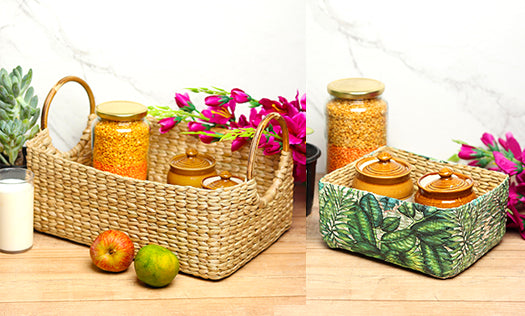 Wedding gifts are presented to newlyweds as a sign of congratulations and as a show of appreciation. Giving gifts is a useful method to express gratitude to the bride and groom. A wedding present should not be viewed as money for attending a wedding or as reimbursement for all the costs the bride and groom incurred during the ceremony and reception. Instead, it is a sign of respect for the pair. As a result, you may want to get inventive and supply a present basket inside your means if you are unable to get a wedding gift from a bridal registry. The main goal of an Indian wedding is to make lovely memories that will last a lifetime. However, they unquestionably lack excitement without the fun wedding presents for the newlyweds. Create memories for your loved ones this wedding season by giving them lovely and practical gifts. With our magnificent selection of Organic baskets, Habere India can provide you with a one-of-a-kind gift.
It is improper to consider a wedding present as remuneration for attending the nuptials or as reimbursement for the bride and groom's wedding and reception costs. Instead, it is an expression of love for the pair. You could wish to be inventive and present a gift that matches your budget if you do not discover a wedding gift on a bridal registry. You could wish to research the couple's common interests. For instance, a nice piece of art or a visit to a renowned museum might be appropriate if the bride and groom are art enthusiasts. The couple could indulge in a hobby rather than a dining room table or kitchen appliances. Wedding presents are special to newlyweds and can be very cherished.
Groom Gift Basket
This basket is made especially if you know the man closely. You can select all the grooming items that are trendy and put them together in a beautiful basket. You can also include a personal note showing your affection towards the groom and your wishings towards the future of the couple. You can buy organic baskets like Seagrass Hamper Basket - Sophie from Habere India. It is a handcrafted all-purpose gift basket that you will treasure always. To sustain heavy loads and provide optimum strength, it includes tightly woven handles. The basket is naturally portable, roomy, strong, and trendy, and it comes in bespoke sizes to make sure you receive the ideal ones to meet your needs.
Bride Gift basket
You can select the list of useful cosmetic items and put them together in a nice organic basket and write a note to express your feelings. You can also add a few artificial flowers to the set to give it a nice look. You can pack them all in Seagrass Lid Box – Large from Habere India. It is a gorgeous, functional and lightweight hand-braided seagrass box with a lid cover. It is ideal as a small decorative gift basket for any occasion and has a rich, tightly woven texture that adds the perfect amount of rustic charm.
Skin Care Products gift basket
Females of all ages are drawn to beauty items. No matter how much she already has something, the bride will undoubtedly appreciate skincare items if you give them as a present. You may create a personalized gift box for the wedding by buying a beautiful bamboo basket and adding all the items to it. You can go with Seagrass Lid Box – Long from Habere India. It is a gorgeous, functional and lightweight hand-braided seagrass box with a lid cover.