Home Decorating Ideas with Laundry Storage Basket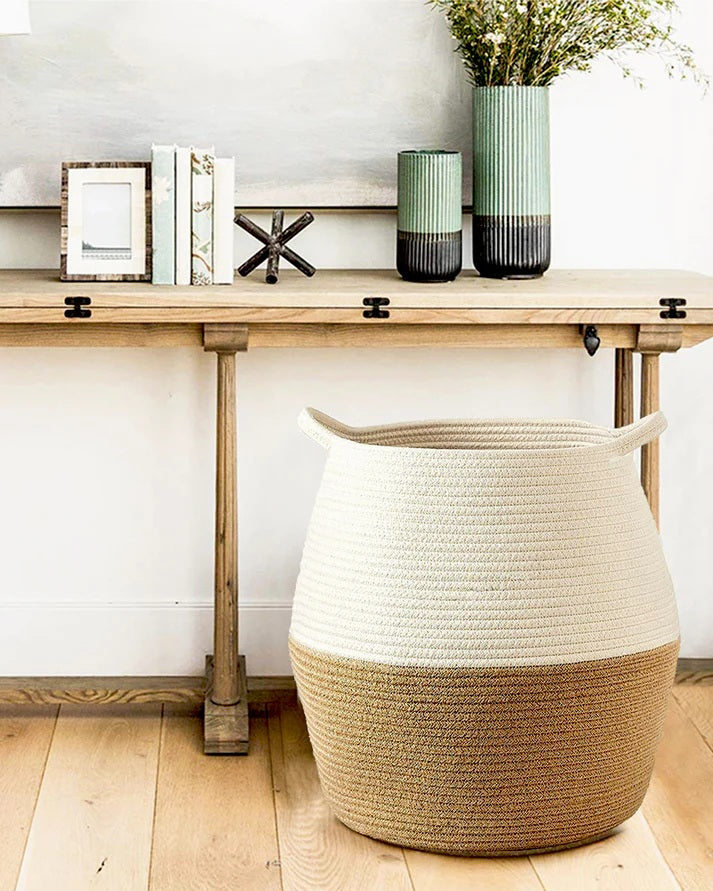 People tend to either love it or loathe it when it comes to washing the laundry. The list of best and least liked household duties has laundry at the top. Sometimes having the right tools and being organised are the keys to making a work more pleasurable. Sorting the garments is the first stage in the laundry process. You may accomplish this using laundry storage baskets.
Okay, but I have laundry baskets, yet I still detest doing the laundry, you might be thinking. This may be the case, but have you given any thought to how your laundry baskets are kept in the laundry room? You ought to. In the world of laundry, changing the way you arrange or keep your baskets can make all the difference.You've come to the correct spot if you want some inspiration for your laundry basket or if doing laundry isn't your favourite and you want to find a method to make it a bit more fun.
Using cupboards in your laundry room is one of the finest methods to conceal baskets. Whether you're starting from scratch with a laundry room design, ask your contractor if they can incorporate this. A pre-existing cabinet may be used for this DIY project, though, if you're a skilled person. When you open the cabinet, a concealed hamper (or hampers, if you wish to allocate one for each family member or to better organise your belongings) glides out or tilts in your direction.Any living space, bedroom, bathroom, infant nursery, etc. may be decorated with our ornamental basket
If you enjoy the notion of hiding your laundry basket but don't currently have any remodelling projects planned, seek for a piece of furniture to conceal your hamper. These independent cabinets might be as big or as tall as the room would allow. Consider how many hampers you'll need to include when choosing one in a design and size that fits your room. While some compact, thin units can fit in a bathroom, they only have one concealed basket. A hallway may be used for storage because some are bigger and include two or three sections. Visitors won't notice if you use the surface to display ornamental things.
The easiest and least expensive option to optimise space is to use a collapsible container. Transporting clothing or linens from the dryer or drying rack to your closets or drawers is the finest application for this laundry basket storage concept. Let's say you installed a concealed hamper system and now you need a hassle-free method of returning clean goods to their owners. The task is completed by a pop-up washing basket, which collapses when not in use. Place it on a shelf in the laundry room, beneath the bed, or in a closet.
It may be used in a variety of settings in addition to being a storage box, such as as a simple planter cover. Use as a plant pot cover to enhance your favourite plants, embellish potted house planters, and add a contemporary touch to your home, workplace, or hotel. using a stylish coat to protect your plants. It is frequently utilised in the living room, bedroom, bathroom, dining area, or laundry room.
The item is made of eco-friendly and healthful materials. The basket may initially sag from being folded for shipping, but the bend's imperfections will eventually disappear. It will go more quickly if you use baskets or fill them. Our product is manufactured and sold exclusively by professionals, and Makes is a recognised brand.