Gift Basket ideas to bring happiness to your loved ones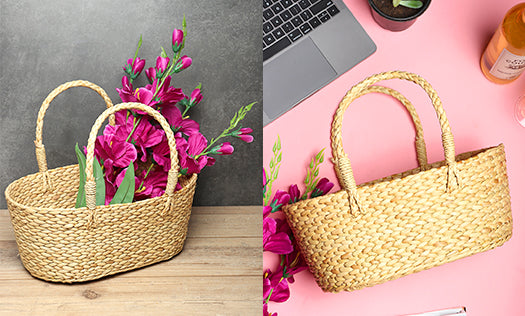 Every gift from a favourite person opens up a happy moment. Whatever the present is and whatever the price is, the gift should demonstrate the depth of the connection and the value of the recipient. A gift basket is an ideal present to give to a special someone. The event might be a success, graduation, birthday, landmark, or anything else. Many of us take a lot of time choosing the nicest and most appropriate present for our loved ones. However, we frequently forget that we may give a gift basket. You can always locate gorgeous Gift hamper baskets from HabereIndia that suit their preferences and tastes. There are many different Gift hamper basket options in the market that may be chosen depending on the occasion and recipient's needs.That is why it is very important to buy the ideal gift. Below are some ideas that can be used to bring happiness to the person who will receive your thoughtful gift.
Flower baskets
The finest way to express beauty, love, and concern is through flowers. Flowers can be bought from local vendors to keep the hamper fresh. It is very important to select the right basket as the basket itself signifies the details. You can go with Seagrass Gift Hamper Basket from Habere India. It is an all-purpose gift basket handcrafted by artisans that you will treasure forever. Natural lightweight, roomy, strong, and portable basket with a contemporary style.
Fruit basket
The ideal present for a loved one who is concerned about their nutrition is this fruit-filled basket. Fruits including apples, pears, oranges, and mangoes are good choices. Additionally, you can add dried fruits, nuts, and raisins. Send fresh fruits to your loved ones as a surprise. Fruits can be bought from local vendors to keep the hamper fresh and personalized. You can buy Seagrass Fruit Hamper Basket from Habere India as it is a perfect choice. It is ideal for use as a gift basket, chocolate basket, wedding, or birthday basket. It has a rich texture, a densely woven design, and a natural rugged appearance.
Comfort basket
Food that provides comfort and emotional support in such trying times might be included in condolence baskets if someone who was close to you has passed away. Sending a comfort basket might include sending nuts, crackers, cheese, fruits, and flowers. Include a touching letter as well, expressing your condolences and love in this difficult time. Seagrass Storage Lid Box – Large from Habere India can be perfect to add items to comfort baskets due to its size and style. It is the ideal ornamental little gift basket for every event since it is beautiful, functional, and lightweight hand-braided seagrass.
Chocolate basket
Surprise your loved one with this chocolate basket on Valentine's Day. This chocolate gift basket will leave a lasting impression on the recipient. White chocolate, milk chocolate, and dark chocolate can all be used. Seagrass Gift Hamper Basket from Habere India can be used to put all the chocolates together and make a beautiful personalized gift. This handwoven seagrass empty gift basket is strong and lightweight, making it the perfect decorative basket for gifts, fruit baskets, gift baskets, and chocolate hampers for weddings, birthdays, and Christmas hampers.