Decision Making Guide for Buying the Storage Baskets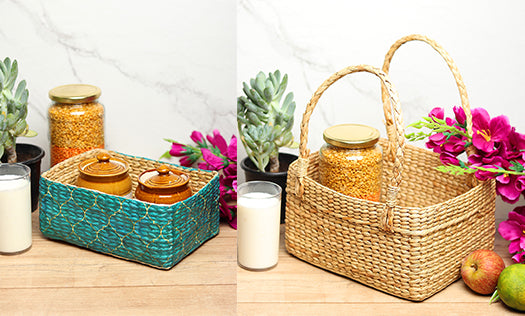 The market for storage baskets for clothes has expanded recently. Storage basket markets are expanding as a result of customer interest in sustainability and concerns about their health. Because of this, there is a growing market for storage baskets constructed of natural materials. Natural-material baskets work well as a practical storage option. Eco-friendly storage baskets are ideal for organising the space and storing necessities in any part of the house or workplace. Baskets serve as both a beautiful feature and a means of storage. Those baskets, which are made of natural fibres, have a natural feel and are simple to incorporate into any current décor theme. A number of organic materials may be used to weave wholesale storage baskets.
To make storage baskets more durable, local makers, in particular, frequently blend natural fibres with additional materials like metal, wood, and recycled plastics. Storage basket are still made from natural materials and come in a wide range of hues, weaving techniques, forms, and sizes. To optimise storage space for numerous goods in the home, wholesale storage baskets should often come in a variety of basic designs (round, rectangular, and square). Many homeowners choose nested, stackable, foldable, and flat-pack designs that are conveniently stowed when not in use due to the restricted amount of living space. Additionally, these designs will enable you to save transportation expenses for your company.
Since these wild fibres offer excellent resilience for daily usage, natural materials are becoming more and more popular for wholesale storage baskets. Cleaning natural storage baskets is more difficult than cleaning ones made of synthetic fibres, nevertheless, because natural materials are not water-resistant. Consumers are more mindful of enhancing their physical and mental health as a result of growing urbanisation, ageing populations, and the COVID-19 issue. They put extra effort into keeping their homes organised with storage baskets so they may unwind and rest.
Regardless of the storage baskets' intended uses, natural materials can be woven into a variety of forms, shapes, and sizes. They fit well with customers' interests in sustainability and wellness since they are non-toxic, robust, and come in a variety of neutral colour variants. This actively encourages the market growth for Storage basket made of natural materials, which has been spectacular. With the effects of COVID-19, the sustainability movement is still expanding and influencing consumer behaviour. More and more individuals are attempting to create less trash for the environment in an effort to create a better world. Storage baskets are among the home furnishings made mostly of renewable natural materials. As a result, creating baskets from natural fibres using an appropriate manufacturing procedure enables baskets to be both socially and environmentally sustainable.