Best Sling Bags for Women to Be in Trend Always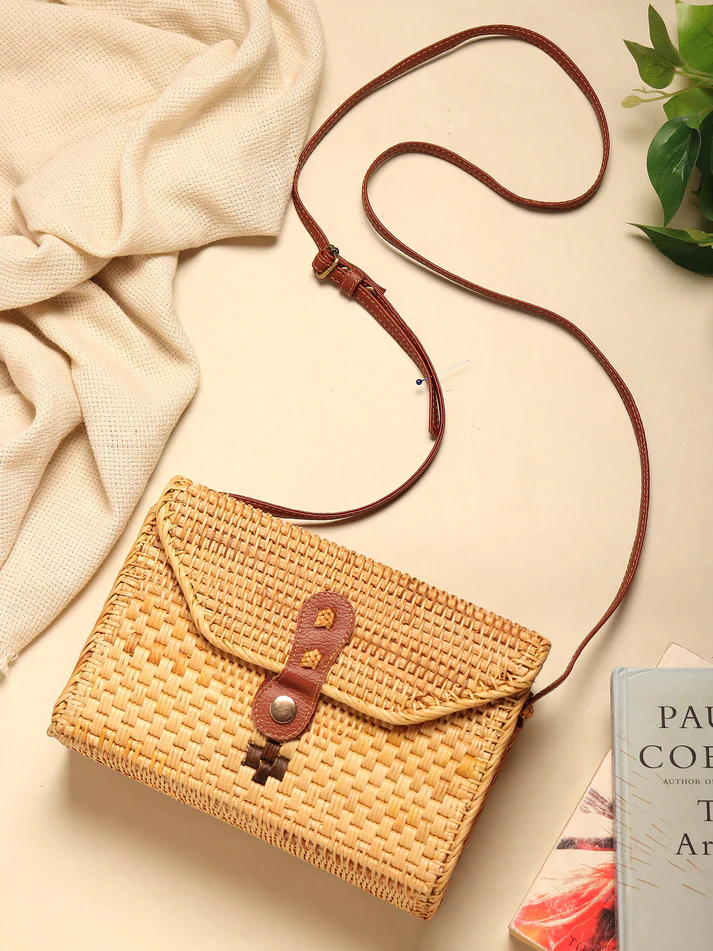 Need to bring several small essentials out with you? Relax, we have got you covered with our exquisite trendy sling bags. Sling bags are a blessing in the fancy world of women's jeans that range from tiny to compartmented. These sling bags not only make it easy for you to carry your important belongings, but they also enhance your overall look and give you a sassy, cool vibe. Sling bags never go out of style and go with almost anything. These sling bags are very stylish, cozy, adaptable, and environmentally responsible. These bags can be made short or long enough to comfortably accommodate your essentials.
Sling bags at Harbereindia are handmade by artisans of India using generation-old techniques. Because it was handcrafted, it is distinctive and charming. These are produced using hand-harvested native rattan. You can hang these fashionable sling bags on your arm. They have a variety of appearances, shapes, and hues. These sling purse styles can be worn across your body or parallel to it. Sling bags come in a variety of sizes, and at Harbereindia, we offer a wide selection so you can find one that meets your needs.
They are great for everyday use as well as when you want to look stylish! Therefore, we've put together a selection of rattan sling bags for women that definitely belong in your wardrobe!
1.
Round Rattan Beach Sling Bags
Round Rattan Beach Sling Bag is a perfect sling bag while traveling to the beach to enjoy your summer with friends and family. This bag in a circular shape has some crystal-like stones attached to a sandy look alike surface, giving it the ideal appearance for a beach vacation. This bag enables you to bring small, necessary items to the beach with you, such as sunglasses, suntan lotion, or a pack of snacks to enjoy while you lounge on the warm sand, take in the refreshing sea breeze, and watch the waves crash at your feet.
Because of the handcrafted nature of the product, there may be minor imperfections in the colour and texture. The bag measures 20 cm in diameter and 7 cm in breadth.
2.
Rattan Bali Sling Bags
If you are looking for a rectangular shaped, stylish yet eco friendly sling bag, then Rattan Bali Sling Bag is the one for you. These bags are made by Indian artisans using age-old methods and hand-harvested native rattan and jute. The height of the belt can be adjusted to suit your requirements. This bag can be used to transport small necessities anywhere, particularly if the location has a Bali theme since the word "Bali" itself appears in the name.
The bag is constructed entirely of Rattan, a natural fibre. To clean the surface, a soft towel is required. The item measures 23 cm in length, 9 cm in breadth, and 15 cm in height.
3.
Straw Half Moon Clutch Bag
Need to go to an event and want to look stunning as well as feel environmentally responsible. Don't worry, we at Habereindia just got the perfect bag for you. This bag is made from premium seagrass which is strong and environment friendly, giving you a minimalist fashion look. This bag has a very distinctive appearance thanks to its half-moon form and straw texture.
This bag is constructed entirely of seagrass, also known as water reed, a natural fibre. The item's dimensions are 29 centimetres long, 5 cm wide, and 14 cm tall.